Analyzing Security Notes with SAP Maintenance Planner
Maintenance Planner is a cloud solution from SAP that supports the planning and administration of systems in SAP landscapes. It is the successor to Maintenance Optimizer and Landscape Planner and consolidates and simplifies tasks such as system installation, updates, upgrades and conversions.
Maintenance Planner is hosted on the SAP Support Portal. It maintains an inventory of SAP systems in customer landscapes. The inventory can be viewed using the Explore Systems tile.
Landscapes can also be analyzed using graphical topologies in Hybrid Landscape Visualization.
Explore Systems provides detailed software information for each system such as product versions, components and stack levels, as well as tracks and dependencies. Tracks are used to group related systems and streamline maintenance.
Maintenance Planner identifies products that are out of maintenance, third-party add-ons installed in SAP systems, and inconsistencies between displayed software components and installed components in systems. The software information is sourced by Maintenance Planner directly from the Landscape Management Landscape Database (LMDB) in SAP Solution Manager. The information is synchronized with the LMDB every day via the SAP-OSS connection between Solution Manager and SAP Support.
Upgrade Dependency Analyzer (UDA) is integrated with Maintenance Planner to help identify the impact of maintenance tasks in dependant systems. Maintenance Planner identifies and downloads the required software packages for planned upgrades or new systems. It also supports conversion tasks for migration from SAP ERP to S/4HANA. Finally, Maintenance Planner includes guided workflows to discover and integrate SAP cloud solutions.
Maintenance Planner calculates and displays recommended notes for systems in each landscape. The notes are analyzed and managed using the View Recommended Notes tile. It supports searching, filtering, grouping, sorting, and exporting of results. The Calculate Notes option displays relevant notes for selected systems. Notes are grouped by category including Security, Hot News, Performance and Legal Change. You can select a note from the available categories to view the details. CVE, CVSS and vector information is provided for SAP Security Notes.
Maintenance Planner can track the implementation lifecycle of notes using the Processing Status option. The following values are supported for the option:
Transferring: Note is transferred for implementation
In Progress: Note implementation is in progress
Not Relevant: Invalid or irrelevant note for the system
A Comments field is also included for users to provide additional information related to the implementation status of each note.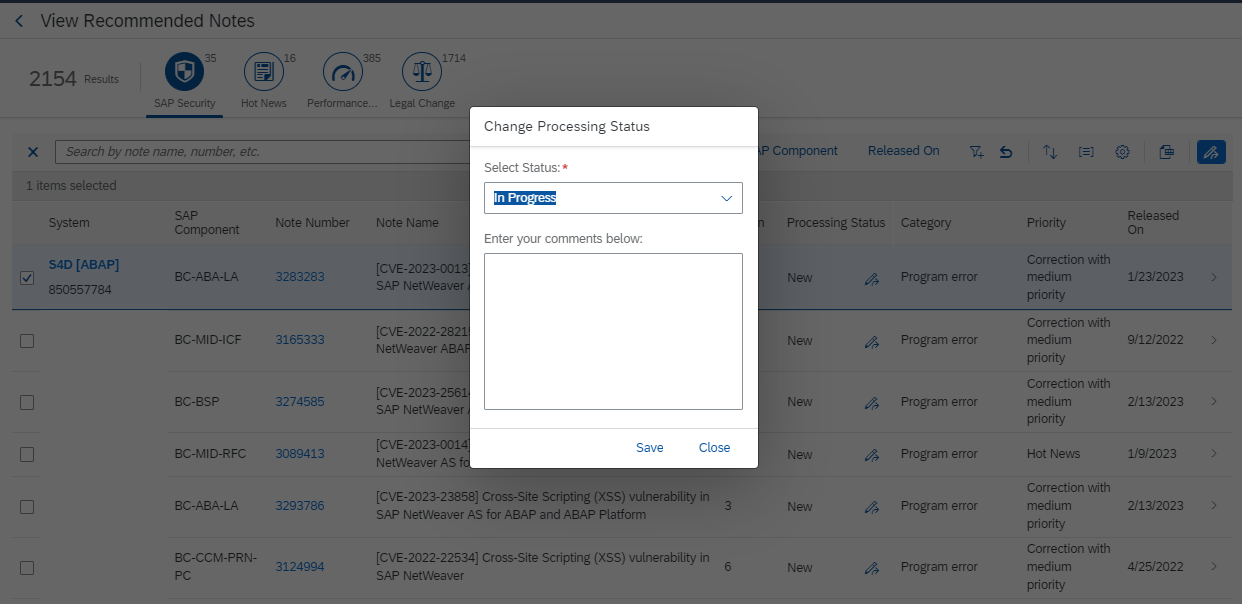 Maintenance Planner provides an alternative to System Recommendations for discovering and managing required notes in SAP systems. However, unlike System Recommendations, Maintenance Planner does not identify SAP HANA, Web Dispatcher and platform-related notes. Also, it does not integrate with Change Request Management (ChaRM), Usage and Procedure Logging (UPL), ABAP Call Monitor (SCMON), and Solution Documentation for the full lifecycle management of notes and automated change impact analysis to support test planning.