What to Expect in the Cybersecurity Extension for SAP Version 5.0
Version 5.0 of the Cybersecurity Extension for SAP (CES) is scheduled for general availability in September. It includes several enhancements, configuration checks and new patterns to improve vulnerability management and threat detection for SAP solutions. This article discusses some of the key changes.
Trend Analysis
Trend Analysis is a new application in CES that tracks changes in vulnerabilities, security notes, and alerts over two years. It can be used to monitor security results across periods. For example, the number of vulnerabilities in the current period can be compared with results from the prior month to assess the effectiveness of remediation activities. Results can be analyzed using daily, weekly, monthly, or quarterly intervals, as well as custom date ranges. Results are visualized using multiple charts and tables with the option to export results. The advanced filter can be used to focus trend analysis for specific business units, areas, landscapes, systems, priorities, and other variables.
Systems
Systems is another new application in CES. It displays system information for targets that are monitored by CES. Target systems are selected from the available managed systems in SAP Solution Manager and SAP Focused Run. System information is displayed in cards for each system. The information includes attributes such as the SAP System ID, landscape, environment, priority and group. Groups are typically business units that are maintained during the installation phase. The application includes a filter to search for specific systems based on attributes.
Actively Exploited Vulnerabilities
CES version 5.0 automatically detects actively exploited vulnerabilities. The vulnerabilities are identified and flagged based on automated correlation with event logs and alerts in CES. Results in Vulnerability Management can be filtered to focus on vulnerabilities that have active alerts. Users can also create and publish alarms to their Launchpads for actively exploited vulnerabilities using the Save as Tile option.

SAP GRC Integration
SAP GRC identifies users with access to sensitive functions and conflicting functions that should segregated between users. It also detects if the functions that comprise an access risk are executed by users. CES v5.0 integrates with SAP GRC to report and alert for access risks where the relevant sensitive or conflicting functions are executed by users. This enables organizations to be notified immediately for access violations and investigate the risks using the incident response capabilities of the Cybersecurity Extension for SAP.
Report Scheduling
The Cybersecurity Extension for SAP supports export to PDF, CSV and Excel for compliance, vulnerability and other security reports, including reports related to security notes, events and alerts. In earlier versions, the reports were exported on demand. Version 5.0 supports the scheduling and automatic distribution of reports by email. Users can customize email settings including the subject and text. Distribution lists are supported.
User Experience
CES v5.0 includes a redesigned application launchpad.
Vulnerability Management includes a card view for system selection. Users can switch to the dashboard view supported in earlier versions, if preferred.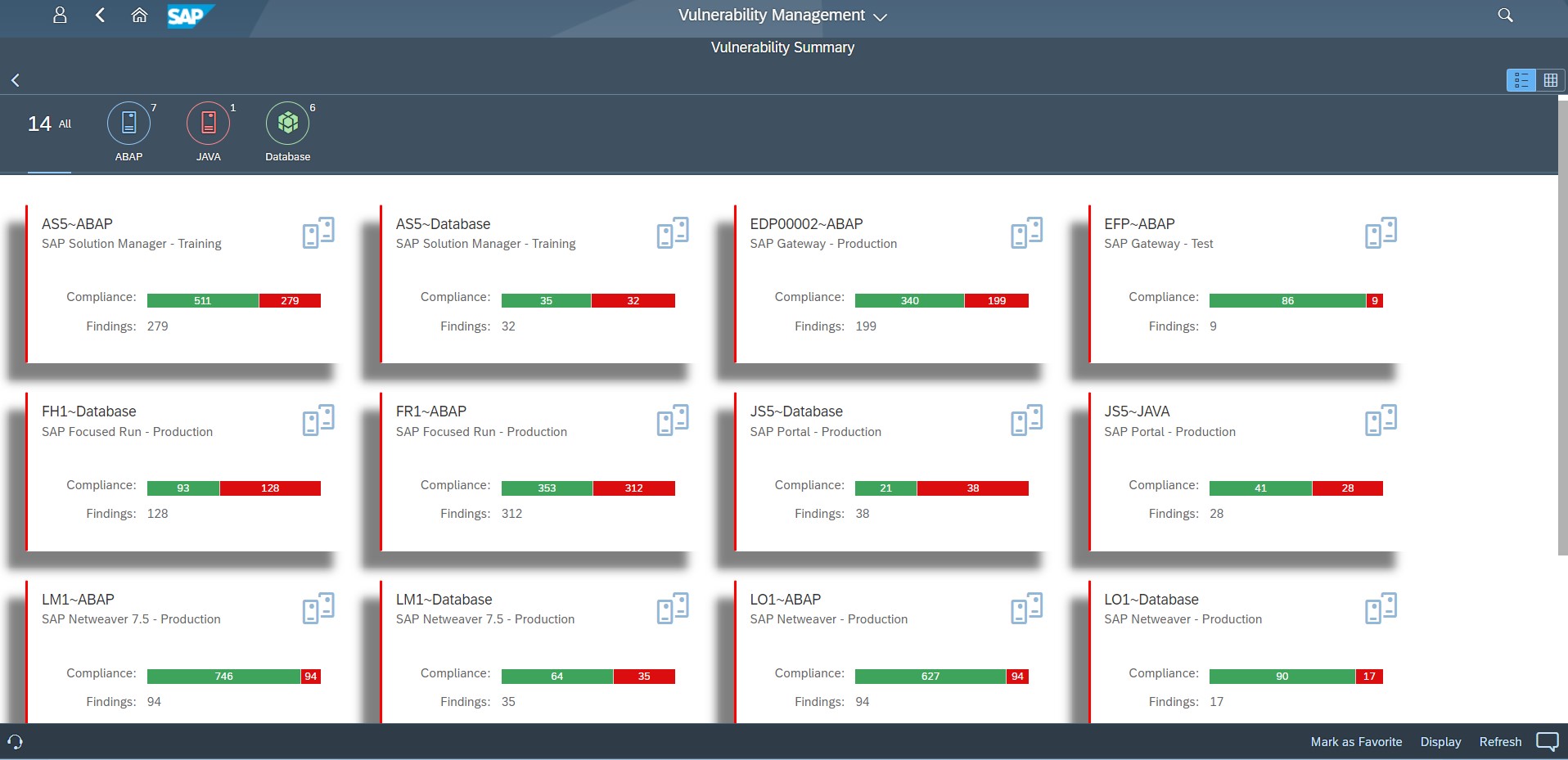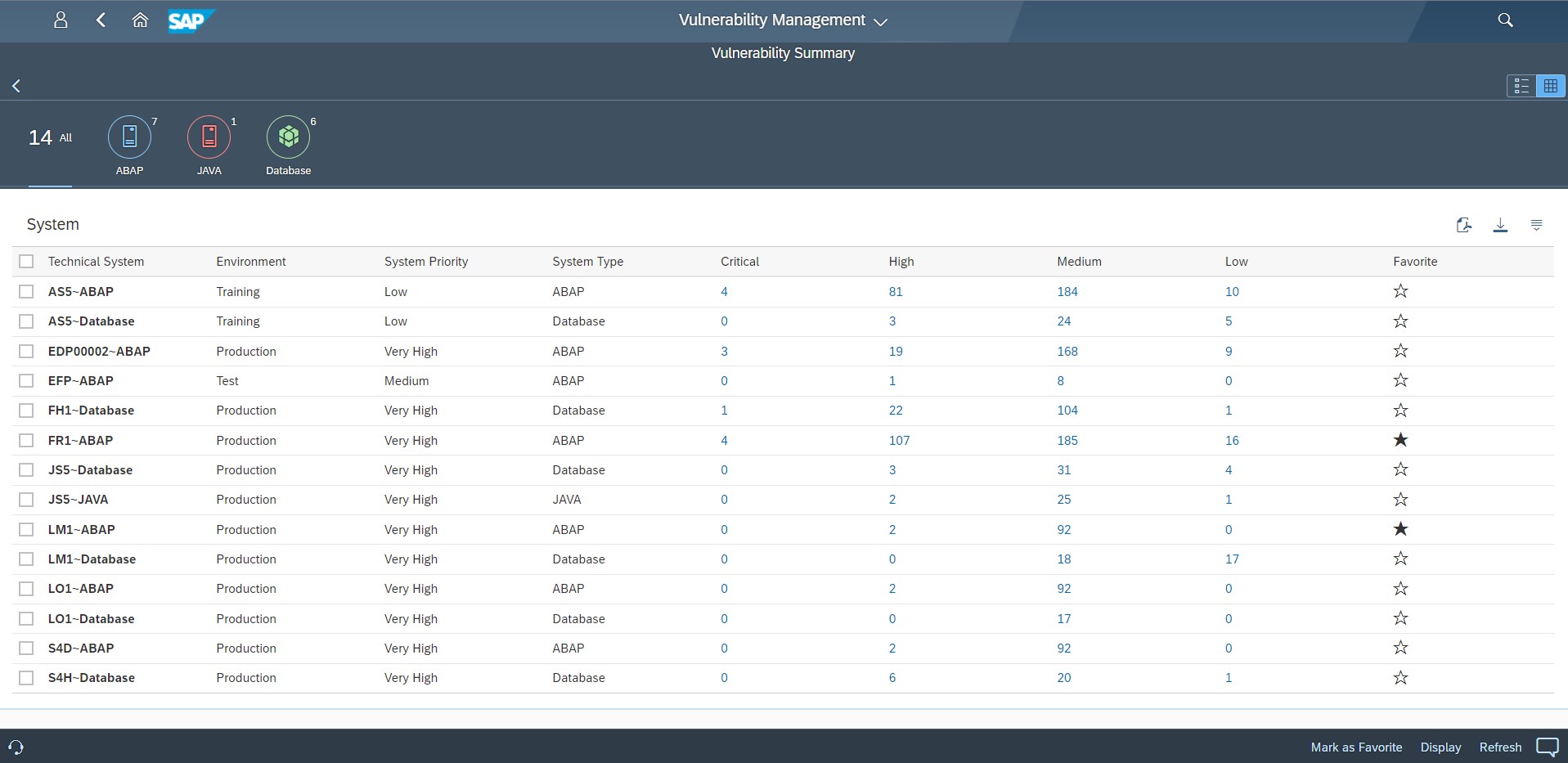 Compliance Reporting also includes a redesigned interface for selecting frameworks and systems and navigating results.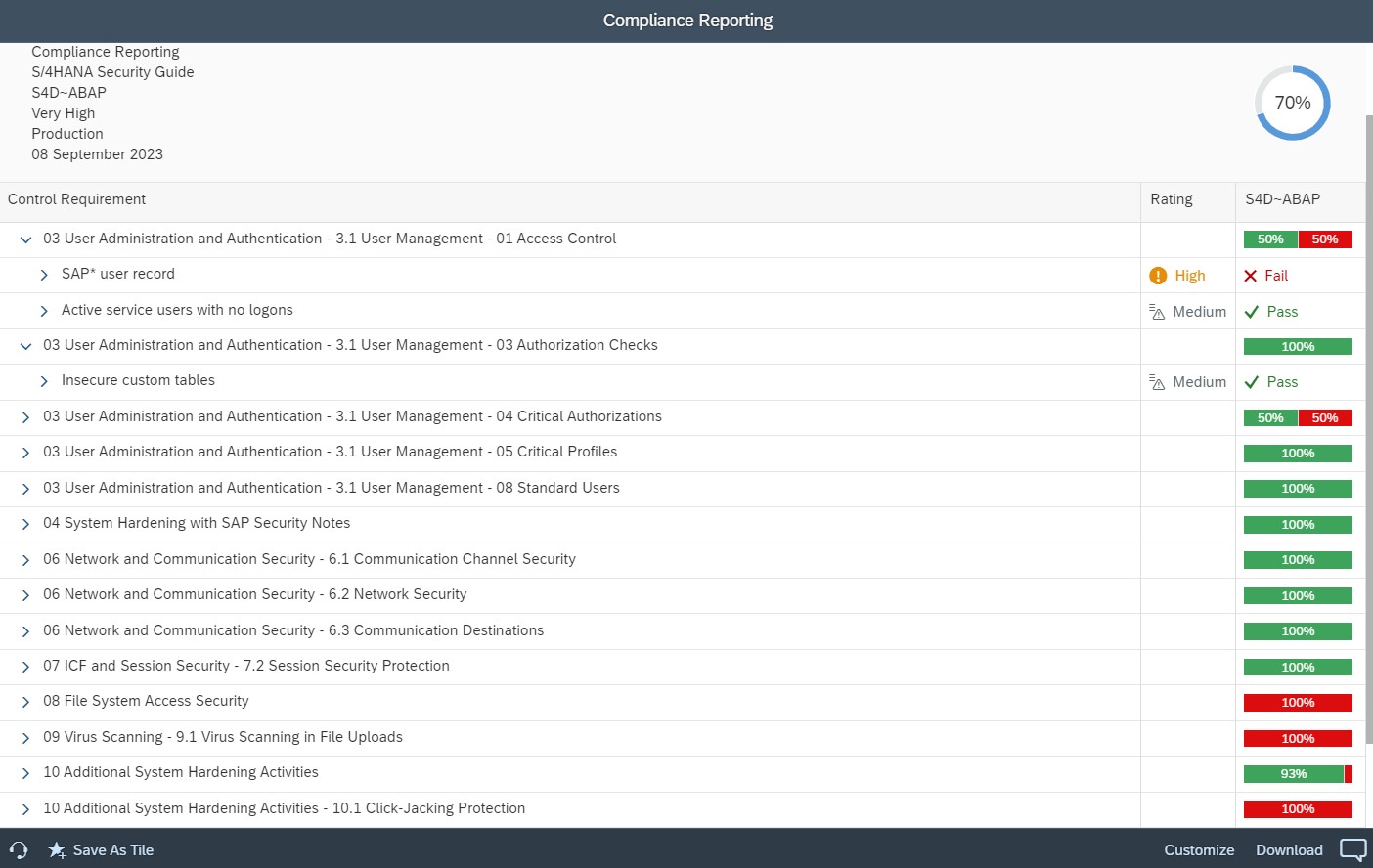 Security Alerts includes a heat map for analyzing alerts by system and column charts for analyzing alerts by 24 hour, 7 day, and 30 day intervals.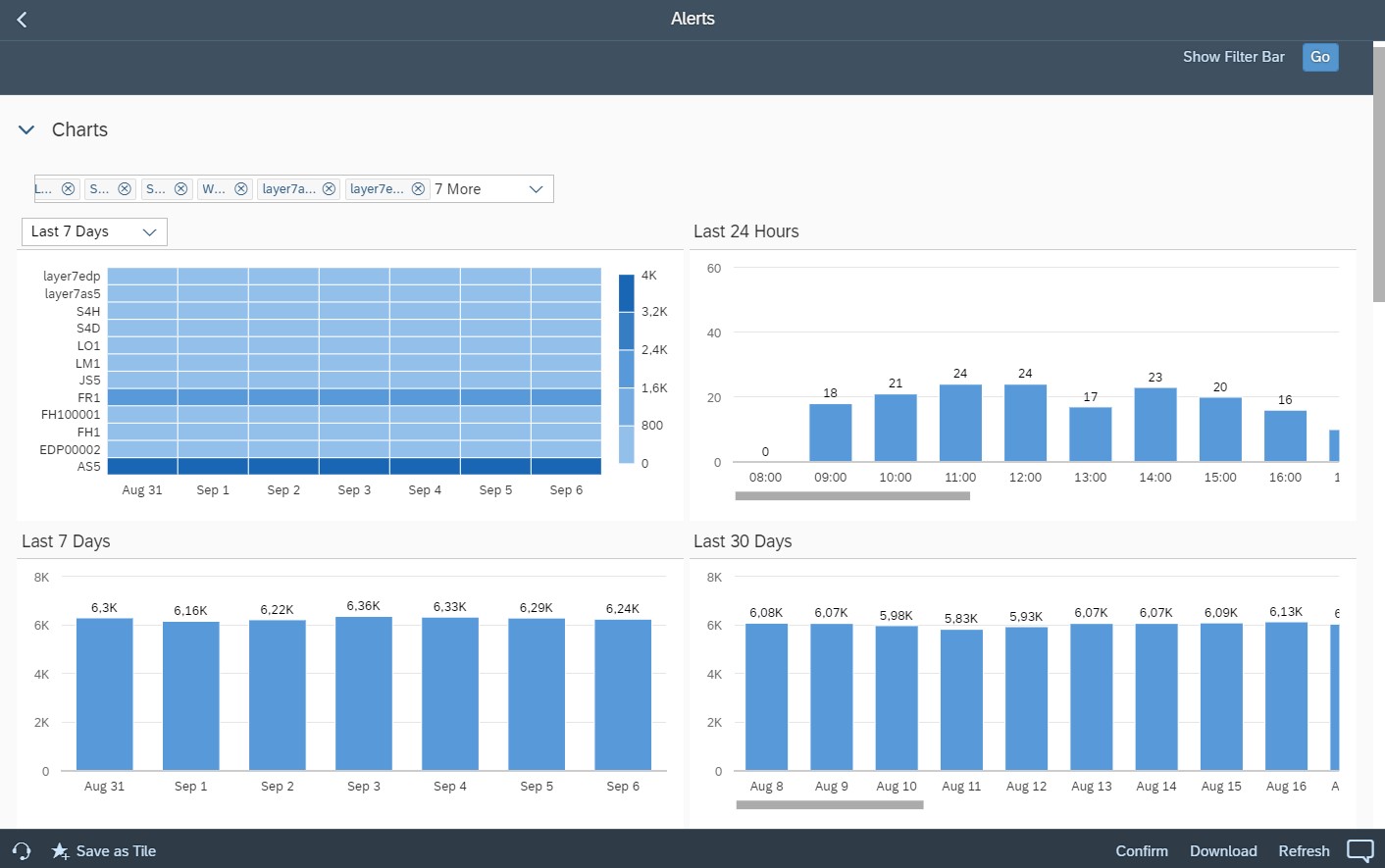 SAP ASE
The Cybersecurity Extension for SAP supports full-stack monitoring for SAP systems including application, database and host layers. SAP ASE is a widely-used relational database server for SAP solutions. Version 5.0 includes extended support for ASE monitoring including new vulnerability checks for checking logon settings, remote logins, password policies, database users including default and inactive users, critical database roles, database encryption, and audit settings. It also delivers alerts for critical database events such as failed logons, locked users, logons by default users such as sa, changes to the database configuration including disabling auditing, role and user changes, new procedures or services, remote procedure calls, the execution of stored procedures, and table contents transferred to/ from external files.
SUSE Linux Enterprise Server
Version 5.0 includes several new alerts for SLES operating systems supporting SAP solutions. This includes alerts for locked and unlocked users, new users, login failures, password changes, replay attacks, users that switch to root, and threats from the execution of malicious programs in SAP hosts.