7 Reasons You Should Upgrade to SolMan 7.2
SAP Solution Manager (SolMan) is the epicenter of SAP implementations and the standard for monitoring and maintaining SAP landscapes. The general availability of release 7.2 in August is expected to deliver major advances in seven specific areas.
The first is support for managing the implementation lifecycle of HANA and S/4HANA. SolMan 7.2 is optimized to not only manage HANA systems but also run directly on HANA. Licenses for HANA are bundled with SAP maintenance contracts and are therefore effectively free for SolMan 7.2.
The second is support for hybrid systems. SolMan 7.1 SP13 or lower is directed primarily at ABAP and Java systems. However, SolMan 7.2 will extend support for monitoring both cloud and on-premise environments including SuccessFactors.
The third is an improved user experience through SAP Fiori. The Fiori launchpad provides a simple and graphical interface and replaces the work centers available in release 7.1. Dashboards have been migrated from Adobe Flash to the SAPUI5 (HTML5). Since HTML5 can be rendered on any device, SolMan no longer needs Android and iOS apps to support mobile users. The Fiori Launchpad enables users to personalize their screens to include access to other applications (see below).
The fourth is a wider array of application and cross-application dashboards for monitoring metrics such as system security, changes, events, incidents, availability and performance. Customers can also leverage custom dashboards using predefined templates available from Focused Insights. This includes dashboards for monitoring not just technical but business metrics. Focused Insights include over 800 best practices KPIs that can be deployed in minutes without programming.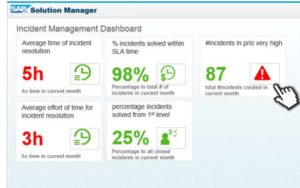 The fifth is an enhanced Custom Code Management application to enable customers to optimize the quality, performance and security of custom developments. This includes governance models to identify custom code in system landscapes and tools such as UPL and SCMON to track the usage of custom code. Usage data can be used to decommission idle code to lower the attack surface for custom developments and reduce the scope of testing during system upgrades or enhancements.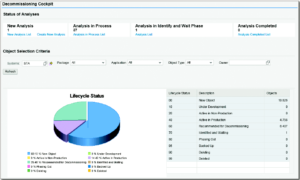 The sixth is tighter integration between the Test Suite and solution documentation, enabling customers to focus testing on business processes impacted by proposed changes. This is performed using Business Process Change Analyzer (BPCA). BPCA leverages the inventory of business processes in solution documentation and Technical Bills of Materials (T-BOMs) for executables within processes.
SolMan 7.2 enables users to record and replay test scripts to automate testing using Component-Based Test Automation (CBTA). These and other applications for creating and maintaining test plans, scripts, and results including defects are accessed through the Test group in the SAP Fiori Launchpad.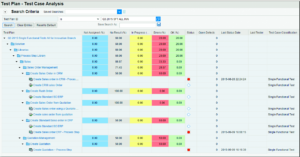 The seventh and final reason for upgrading to SolMan 7.2 is that SAP cannot extend the deadline for ending maintenance for release 7.1 beyond December 31, 2017. Customers have a relatively short window to upgrade to release 7.2. The Monitoring and Alerting Infrastructure (MAI) is mandatory for all operations in SolMan 7.2. Therefore, MAI must be enabled in SolMan 7.1 before any upgrade. A stack split is performed during the upgrade procedure. Database migration to SAP HANA can also be performed during the upgrade. Detailed information is available in Notes 2161244, 2045230 and 2045342.
To discuss how Layer Seven Security can support your Solution Manager 7.2 implementation or upgrade projects, contact us here.