A First Look at Support Pack 5 of SAP Solution Manager 7.2
Released earlier this month, Support Pack 5 for SAP Solution Manager 7.2 delivers important enhancements in several key areas. This includes support for exporting and importing solution documentation between systems, improved SAP-delivered solution blueprints, and an enhanced graphical editor for mapping business processes. SP05 also introduces a new Fiori App for Quality Gate Management in ChaRM. There are also new Fiori Apps for Data Volume Management to support data aging and identifying unused data.
For security, SP05 introduces several notable changes. Solution Manager Configuration and Administration now includes a tile for Security-Relevant Activities. This function can be used to check the status of authentication, connection, and user related activities required for the effective setup and operation of Solution Manager.
Solution Manager Configuration and Administration also includes a new scenario for setting up and tracking usage logging. Areas such as System Recommendations analyze usage data to identify the impact of changes and corrections on ABAP objects.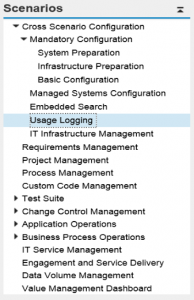 SP05 also introduces several functional improvements for System Recommendations. The available filters in System Recommendations now include a selection field for Note Number. This can be used to jump directly to specific Notes.

System Recommendations also includes a new tool for side-effect Notes. The tool was originally introduced in the SAP Marketplace in 2003 and enables users to identify interdependencies between SAP Notes and guard against the known side-effects of applying certain SAP Notes. Note 651948 discusses side-effects Notes.
Interface and Connection Monitoring (ICMon) includes an improved interface to drill down from monitoring overviews and topologies to the details of each interface channel. Users can also now assign severity ratings for ICMon alerts. SP05 widens the coverage for supported interface channels to include the SAP Application Interface Framework, SAP Information Lifecycle Management (SAP ILM) and Ariba Network. It also provides additional metrics for monitoring existing channels such as web services.
The Fiori launchpad for Solution Manager SP05 includes new tiles for the Guided Procedure Framework. The Guided Procedure Catalog can be used to browse available guided procedures. The Guided Procedure Usage tile can be used to access the execution logs for guided procedures. Available filters have also been improved to support selection for guided procedures based on technical systems and hosts.
Full details of the changes introduced with SAP Solution Manager Support Pack 05 are available at the SAP Help Portal.